Tata and Rockefeller launch India-focused clean energy microgrid unit
Nov 5, 2019 02:25 PM ET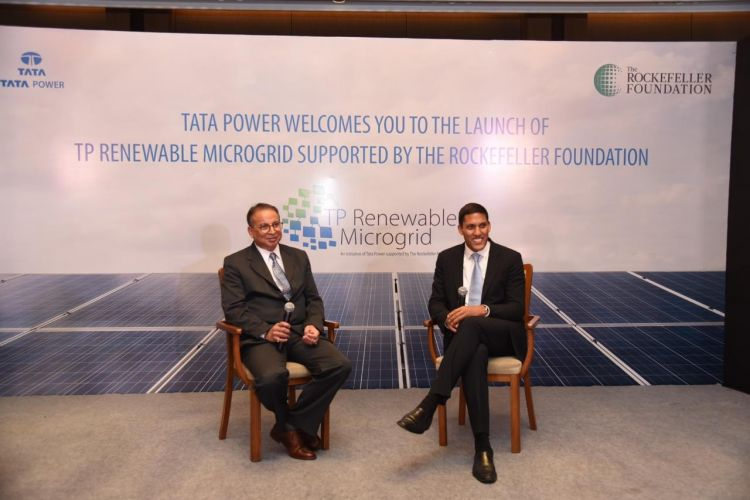 Two giants in financing and Indian power are collaborating on a clean energy microgrid operation they claim will deliver power to five million Indian households with 10,000 grids over the next decade.
Tata Power, one of India's heavyweight distribution companies and solar power developers, has tapped The Rockefeller Foundation to launch TP Renewable Microgrid Ltd. The new organisation will take on and scale up a microgrid model in partnership with the Institute for Transformative Technologies and Smart Power India (SPI), which was launched by Rockefeller Foundation in 2015 and has built microgrids for more than 200 villages in the South Asian country to date.
The move is meant to complement the well-documented drive of the Modi government to provide power to the whole of India. Indeed, the government already announced in April 2018 that it had succeeded in its goal of electrifying every village in India, although this was not without controversy. The definition of electrification under close scrutiny showed that only 10% of households in a village had to be powered to qualify for the category and this did not take into account quality and reliability of power, famously a thorn in the side of Indian consumers' in a land where both power theft and cuts had been normalised.
Rural electrification has also come with a push and shove between the main distribution companies, micro-grid firms and solar home system (SHS) suppliers, each of whom stand to gain or miss out against one other depending on the quirks of any chosen regulations or policies on electrification.
Nonetheless, many parts of India have serious power shortages and lack power access. The northern states of Uttar Pradesh and Bihar have more than 40% of rural enterprises relying on off-grid power mainly through diesel, claimed Tata.
Other companies already in this space have tried a range of alternative energy supplies. Husk Power, for example, combined biomass from rice husk waste with solar power and battery storage to give round-the-clock electricity to several households and businesses at a town in the far east of Uttar Pradesh.
In a release, Tata Power noted that "over time, the opportunity to deploy grid-interactive solutions will materialize, creating a more integrated, stable and smart rural grid". The company can therefore work on off-grid supply, but then also offer decentralised supply at a later date to allow consumers to benefit from the main grid but also to use microgrids as backup in the case of a power outage.
Tata Power, which has nearly 11GW of installed power capacity, is already experienced in this more alternative area of distributed energy, having established a joint venture with the Delhi government to power local people in the city as well as in slum communities.
"Once at scale, TP Renewable Microgrid Ltd. anticipates supporting 100,000 rural enterprises, creating 10,000 new green jobs, and providing irrigation for over 400,000 local farmers," said Tata Power CEO Praveer Sinha.
Dr. Rajiv J. Shah, president of The Rockefeller Foundation, added: "Providing reliable electricity to the communities that need it most is one of the best ways for us to end poverty and unleash economic opportunity in our lifetimes."
Tata goes in-house for 150MW PV plant
In related news, Tata Power has given a letter of award to its subsidiary Tata Power Renewable Energy Limited (TPREL) to develop a 150MW solar project in Maharashtra after it won a bid in August this year.
The 25-year power purchase agreement (PPA) will be executed upon approval and adoption of the tariff by Maharashtra Electricity Regulatory Commission.
"This is an important milestone in our endeavour to generate 35-40% of Tata Power's total generation capacity from clean energy sources. We hope to continue to build on our capabilities, deliver over expectations and create high benchmarks all around," said Ashish Khanna, president-Renewables, Tata Power.
SOLAR DIRECTORY
Solar Installers, Manufacturers