Best Solar Panels for Campers
Sep 20, 2022 03:47 PM ET
Expect a lot of activity when camping at any destination of your choice. But as you know, running out of power at the camping site can be a nightmare. Talk of the lighting system, power for your smartphones, digital cameras, and the like. You need a power source to make your camping as enjoyable as possible. It doesn't need to be a problem nowadays though. Solar panels for campers are plenty in the market. Solar panel devices are eco-friendly and are great companions for diverse camping needs.
What are solar panels?
A solar panel is a device or module that taps into the solar energy, which is converted into electricity. Solar panels are used in different areas, the main ones being the provision of electricity to power home and commercial systems. Others are remote sensing, cabin remote power systems, and telecoms.
Why are solar panels good?
Solar panels are good for domestic or commercial applications. Irrespective of the intended purpose, the benefits of solar panels will save the day for various reasons:
Protection of the environment
Using the best portable solar panel for camping guarantees a clean and cheap energy source. Solar energy is accessible to all at zero cost.You just need to install the right equipment and you are good to go. Similarly, using solar panels to generate energy eliminates the need to use non-renewable and polluting fossil fuels. That way, you will champion an environmental cause and save the globe from climate change's impacts.
Enjoy rebates and tax credits
The government understands the need for a clean and reliable source of energy. In the US, federal income tax credits come up to 30% for purchasing and installing solar panels. The idea of the government is that by making solar panels cheaper, they will give an incentive to tap renewable solar energy. You would save a lot when you buy a portable solar panel for camping that carries a subsidy.
Powering your home and devices, no bills
Aren't solar panels not good for power and warming your home or devices? Like electricity, solar panels will get the work done if sunlight is enough to tap. In the end, you get enough power to light your home, office, and outdoor spaces. For campers, that can be a great way to ensure all the devices get charged, allowing you to stay longer on vacations. At the end of the day, there is no electricity bill when you buy solar panels.
No cluttering
Solar panels for small campers are not large equipment. You can easily carry them along, and they won't take up a lot of space for maybe your tented camp. There is no heavy wiring too that can leave your spaces overcrowded. That leaves your campsite more clean.
No disturbances
Assuming you go camping, you need an energy source since you are going off-grid. That leaves you with limited choices of solar panels or generators. With the former, you have a quiet energy source. That way, you enjoy camping and protect others in the vicinity.
How do solar panels work?
The panels rely on sunlight to generate electric energy. They have solar cells with layers of phosphorus, silicon, and boron. Phosphorus and boron give negative and positive charges, respectively.
Generally, solar panels generate electricity in a process called the Photovoltaic effect. The process involves the panels absorbing the photons to start an electric current. The energy from the photons knocks electrons from the atomic orbits. The free electrons are then sent into an electric field directionally. These energy currents are tapped and converted into an alternating current and used to power various devices.
How to install solar panels?
Installing solar panels for camping may not be a complicated process. However, key items must be set well to ensure that the installation is right and no safety issues arise. Here are the simple steps to follow:
A key note is that you can buy a basic system and subsequently attach more panels to it based on the power needs.
Get a solar regulator to prevent the batteries from overcharging.
As a backup, you need to store the power from the panels, and a deep-cycle battery offers a great option.
For your camping, you need to travel with the 12-volt sockets. They will come in handy when charging your LED lights, mobile phones, cameras, and other gadgets you carry along with you.
Keep your solar panels secure and stable by using mounting brackets.
How to clean solar panels
Cleaning the solar panels is a necessary step to reap from long-term use. The following tips may help:
Brush off loose materials such as tree leaves that may have accumulated on the solar panels.
Using an abrasive rag or soap can scratch your solar panel. You can find some of the items in cleaning kits for solar panels. Also, a mild soap will get the work done.
A wiper long enough to clean the panels will safeguard your safety during the process.
An automatic cleaner functions similar to a sprinkler system and can be relied on occasionally to clean the solar panels.
What are solar panels made of?
Solar panels consist of crystalline silicon wafers. They are the main component, with silicon being the main material in solar panel semiconductors for 95% of most equipment. 5% of other solar panels are made of in-development techs, such as organic photovoltaic cells.
There are other operational components too. They include plastic, metal, glass, and wiring systems.
How big are solar panels?
Solar panels are about 5.5 feet long and 3 feet wide for residential use. They weigh up to 42 pounds. Commercial panels are a bit longer at 6.5 feet and weigh from 50 pounds going upwards. Generally, the size can vary slightly from the range based on the manufacturer.
How long do solar panels last?
Solar panels are durable equipment under good care and maintenance. The panels can give service for at least 25 years. However, monitoring your solar panels and changing them when you feel they are not performing at the optimal level is essential. You could also change them when newer technology comes up, but that is a personal decision, as the old panels will still be in service.
What is the cost of solar panels?
The cost of solar panels is an average of $16,000. The price for solar panels for small campers can be as low as $3,500. On the higher side, the price can be $35,000.
How much do solar panels save?
While the initial cost of installing solar panels can be huge, users can easily recoup the investment by saving on alternative monthly bills on electricity. On average, the total savings on electricity bills after installing the devices is $1,500. That translates to over $37,000, assuming a lifespan of 25 years.
How much power can solar panels produce?
The amount of power produced by solar panels varies. Weather conditions and location are factors that determine the amount of power. However, on average, the panels generate between 170 and 30 watts per hour.
Best solar panels to consider
PHASFBJ Solar Panel Kit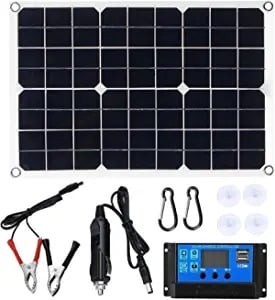 Specifications:
Material: polysilicon PET, ABS
Size: 17.1 x 7.9 x 0.1 inches
Max. power (pmax): 25W
Circuit voltage (voc): 20V
Max power voltage (vmpp): 18V
Max. power current (impp): 1.1A
Short circuit current: 1.5A
Output: USB 5V DC 18V
Applications: cabins, boats, sheds, door openers, RVs, 12 volt car batteries, dry camping, battery-powered gates, remote use, and backup power.
Reasons to buy:
It can be used in various applications, giving flexibility and value for money.
It saves on cost since it comes as a full package.
Limited maintenance costs due to the protection that comes with the kit
It can withstand harsh environmental conditions due to very stiff iron-tempered glass.
It is a 25W solar kit and best for small footprint applications
Reasons to avoid:
Not the best for large footprint applications
Features
The device is self-contained with a 25W solar panel, solar charger voltage regulator, battery charging clip, and cigarette lighter wire.
It comes with advanced materials of high-quality polysilicon material that enhances light absorption and good protection.
It is a polycrystalline solar panel. The kit has a charge controller and is best for 12V, gel, and deep cycle batteries.
MPPT solar charger controller protects the battery from overvoltage, overcharge, discharge, and short circuits.
Installation made easy with plug-and-play cables and already drilled holes
KFHKW Solar Panel Kit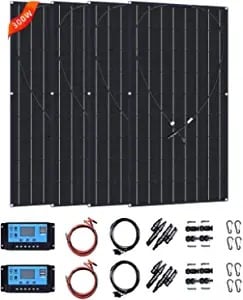 Specifications:
Colour: black
Size: 1180 x 540 x 2.5 mm
Weight 12.55 kg
Max. system voltage: 700V DC
Open circuit voltage: 19.2V-36V
Temperature range: from -20 degrees celsius to plus 80 degrees celsius
Battery efficiency: 19.8%
Connector: MC4
Reasons to buy:
Value for money due to a range of applications
Strong and durable eliminating potential regular replacements
Can work in cold and hot environments well
Reasons to avoid:
A little bit bulky for campers
Features
Can be used for and by campers, trailers, yachts, cabins, boats, and RVs.
The parameters of the solar model can be configured easily. The battery and controller configuration is also easy.
The kit comes with a monocrystalline silicon material making it very reliable and strong.
The circuit is made with overcurrent and reverse protection. They also have a bypass diode.
Goal Zero Nomad 10, Foldable Monocrystalline 10 Watt Solar Panel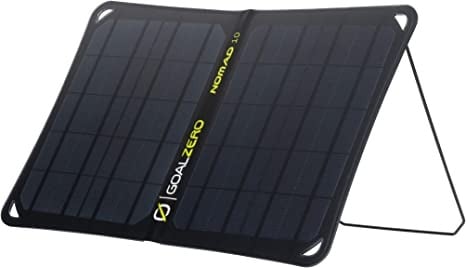 Specifications:
Material: plastic
Measurements: 14.49 x 0.12 x 9.49 inches
Weight: 510 g
Style: battery, USB
Max. voltage: 6V
Max. power: 10W
Reasons to buy:
Very portable and thus one of the best foldable solar panel for camping
Can be mounted on different types of surfaces
Simple to install and easy to maintain
Compatible with most small gadgets such as phones, headlamps, lighthouse lanterns, and power banks which enhances quick access to power
Rugged design makes it tough against any elements that come its way during camping
Fast charging allows unlimited power supply.
Reasons to avoid:
Not the best when looking for a solar panel to power large devices
Features
Users can hook it on their backpacks. It also has loops to attach it to the surfaces of tents.
Its kickstand can be adjusted at 180 degrees enabling mounting at the most suitable position. The kickstand also makes the solar panel very stable
Built-in USB port, thus providing great equipment for charging small devices.
XINPUGUANG Solar Panel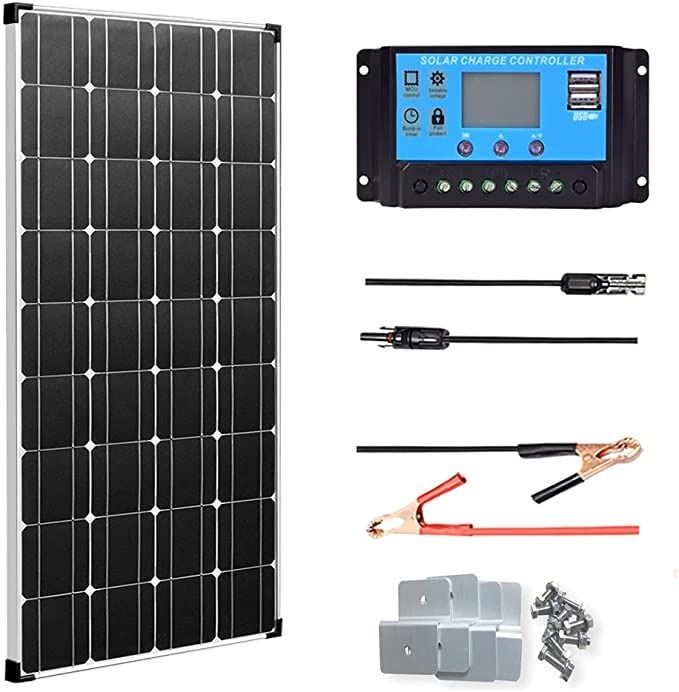 Specifications:
Weight: 3.1 kg
Size: 1160 x 530 x 25 mm
Material: monocrystalline silicon, aluminum
Maximum power: 100W
Short circuit current: 6.11A
Open circuit voltage: 21.6V
Max. power voltage: 18V
Max. power current: 5.55A
Reasons to buy:
Multiple uses including camping, cabin, street lamp, shed, and RV
Easy to use with lightweight solar panel
Easy to install since it comes with pre-drilled holes
Very strong to withstand outdoor use
Reasons to avoid:
Not the best in very extreme hot conditions
Slightly bulky for campers wanting the most light solar panels
Features
It is waterproof, enabling it to withstand harsh weather, including high temperatures, without explosion risks.
Monocrystalline silicon solar cells, which are 1.2 times more efficient in power generation. Still silicon cells for strength.
Comes with an aluminum frame that can resist corrosion. That allows the panels to have longer outdoor use.
Has bypass diodes to minimize safety risks and for an added protection
AIZYR Flexible Solar Panels Kit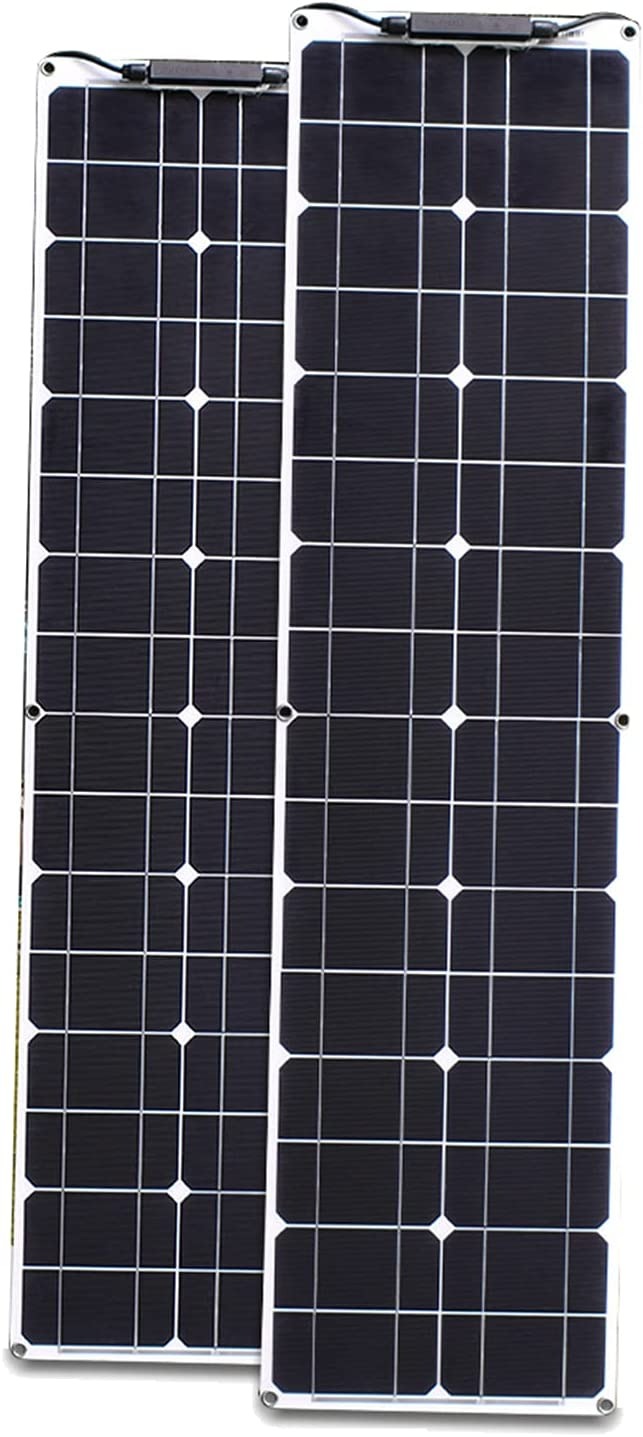 Specifications:
Material: metal
Weight: 0.885 kg
Measurements: 1060 x 270 x 2.5 mm
Cell size: 125 x 125mm
Number of cells: 32
Cable: 0.5 meter x 2 x 2.5 mm
Max. voltage: 12V
Max power: 50W
Ac adapter current: 3.13 Amps
Operating temperature: -20 degree celsius to plus 65 degrees celsius
Reasons to buy:
You can use it in both hot and cold weather
You can carry it around since it is one of the best portable solar panels
You can use solar panels in multiple areas, including cars, boats, vans, and tent roofs. It can also power DC applications
A high-efficiency solar panel
Reasons to avoid:
Lower power compared to peers
Features
The solar panel is made of high-quality and lightweight polymer materials, up to 70% lighter than conventional panels.
The panels come with metal holes that allow quick mounting
Can flex by at least 30 degrees making it possible to mount on curved surfaces. Very thin.
Can charge 3.7V, 6V, and 9V devices and 12V/24V battery using a regulator.
Solar panels for campers: yes or no
There are significant benefits of using the best camping solar panels:
You can go to any area, including the remotest ones, without worrying about lacking a power source.
Even if an area is connected to the grid, you need a backup should power failures occur.
You can enjoy free lighting while camping since solar energy itself comes at no charge.
Quiet compared to if you were to use a generator to power the campsite or devices.
Highly portable as they can be easily carried on a car boot.
By using solar panels, you become a true environmental champion by tapping the solar energy.
A few shortcomings can make it difficult to have solar panels during camping:
Cold or wet weather may cause the energy to be unreliable and need storage batteries.
Add weight to your luggage, especially if you rely on the much heavier solar panels.
Risk of loss or damage, especially at campsites with hazardous obstacles.
Summary
Are you looking for solar panel camping devices? Look no further. Our list offered some of the best portable solar panels you can reliably use for your next camping. Get rid of that electricity bill with solar panels by tapping into free solar energy. Also, you do not have to worry about unreliable power since you have a backup with the solar panels.The solar panels are also a great way to declutter your space. The devices are relatively small allowing them to be fitted in little spaces. It's a great choice for those who take care of the environment and their budget.
SOLAR DIRECTORY
Solar Installers, Manufacturers